IRD System Upgrade Q & A
I have received a "Third Party Access" letter in the mail, what does this mean?
As you will be aware the IRD have undergone a significant system upgrade. With this change has come a few hiccups, one being that we need to reconfirm our Agency list to their new system.

While we complete this, you may receive a letter (as per example) in the mail stating that PKF Poutsma Lemon (Paihia) Limited has "third party access to your information". This letter is simply confirming that we are still your Tax Agents and are continuing to work with the IRD on your behalf. You don't need to do anything but if you are concerned about the letter or any other correspondence you get from the IRD, please contact us immediately.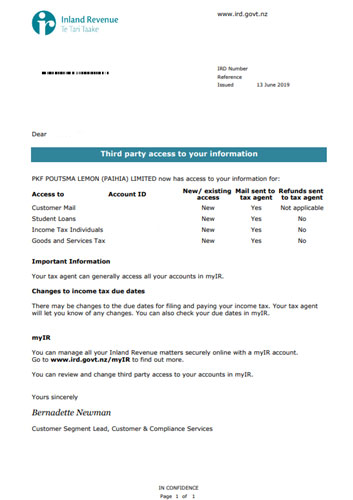 Is it true the IRD are no longer issuing refund cheques? And what does it mean if the IRD makes a refund error?
From mid May the IRD started issuing automatic tax assessments to wage and salary earners (this process is expected to  take approximately two months). The IRD automatically calculates an individual's refund or payment due. Where there is a refund the IRD will direct credit this to your nominated bank account.    
 You shouldn't receive an assessment from the IRD if you receive other income in addition to your salary, wages and interest income. If you have received an assessment and do have other income, please contact us.                                                                                                      
I think I have received a scam email – what should I do?
With the Automatic Assessments underway, scammers have been attempting to take advantage of the system. 
As a reminder, an authentic email from the IRD will never request the following:
Email you the amount of a refund (IRD only has this information on your myIR account)
Ask you to pay money or release a tax refund
Send an email with a hyperlink to a webpage that requests personal information
Request payment via NZ Post or other avenues
Key things to look out for with scam emails:
From a strange non-IR address
No personalised greeting
Strangely worded
Specific dollar amount of refund
The link points to non-Inland Revenue address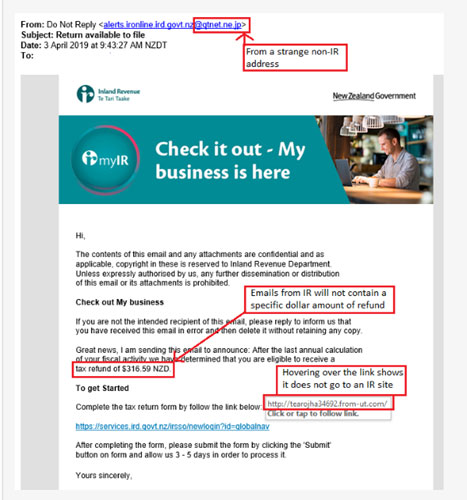 If you receive anything suspicious either via email or phone call, please let us know and we will forward the details to the IRD immediately.  Alternatively you can contact the IRD on phishing@ird.govt.nz
See more Articles items